Friday, Jun 16, 2017
Order Now!
3rd Edition of Walking Paths & Protected Areas of the Keweenaw

Walking Paths & Protected Areas of the Keweenaw is a
guide that features publicly accessible nature and wildlife
sanctuaries, preserves, and parks located in Houghton and
Keweenaw Counties on Michigan's Keweenaw Peninsula that
have been protected through citizen action and private initiative.
These special places provide both residents and visitors the
opportunity to encounter a variety of native habitats, interesting
plant species, and unique geological features in this northernmost
part of Michigan, as well as a glimpse of Michigan before European
settlement and the nineteenth century copper boom. These are places where
natural processes can unfold with minimal human interruption or alteration.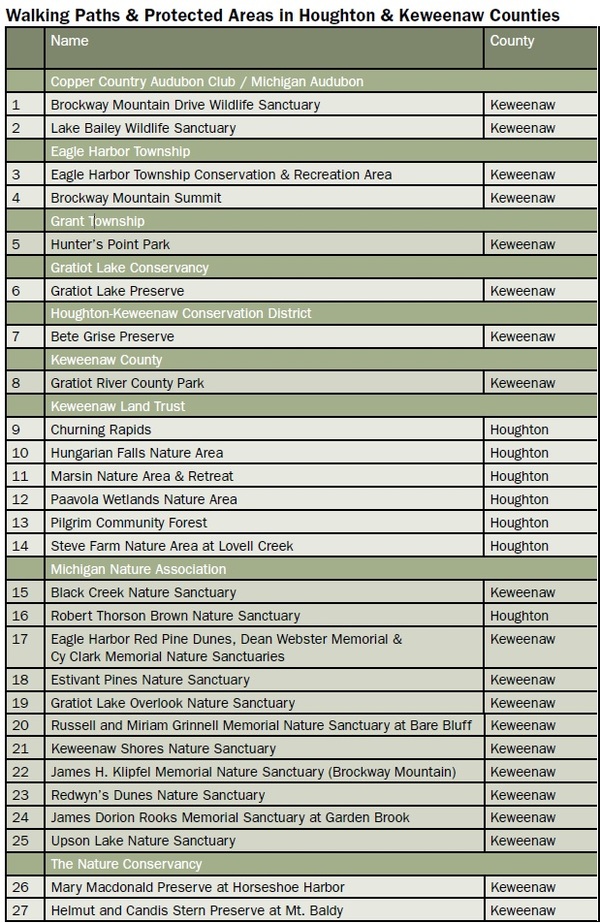 Reserve Your Copy Today!
Reserve your copy here,
calling 866-223-2231, or emailing
michigannature@michigannature.org.
Or visit these local retailers to pick up your copy today!
Keweenaw Gem & Gift - Houghton
Copper World - Calumet
North Wind Books - Hancock
Grandpa's Barn - Copper Harbor
Keweenaw Mountain Lodge - Copper Harbor
Isle Royale & Keweenaw Parks Assn. - Houghton
Keweenaw Convention & Visitors Bureau - Calumet
Down Wind Sports - Houghton
Keweenaw Agate Inn - Copper Harbor